Continuation of my memories of Chhimed Rigdzin Rinpoche, #8
Chhimed Rigdzin Rinpoche with Tülku Thondup. - Source of the illustration]
The previous chapter is here.
To get back to the first beginning of this series, click here.
I had reached the point where, having (spring 1992) passed the «agrégation» [French highest teaching diplom] in philosophy and having learned enough Tibetan, I believed that I had fully met the conditions set by the one whom I then regarded as my master (and who, moreover, had very formally accepted me as a disciple) – Nyoshül Khenpo – in order to be able to be trained by him. So it was with all the enthusiasm and unconcern that a 22-year-old boy can be capable of that I was about to take the plane to Nepal, on October 23, 1992, I think. I was going to arrive in Asia at the time of Dilgo Khyentse Rinpoche's funeral, which was to take place in Bhutan; it seemed to me that it would be easier to get in at that time, since many Westerners were expected there.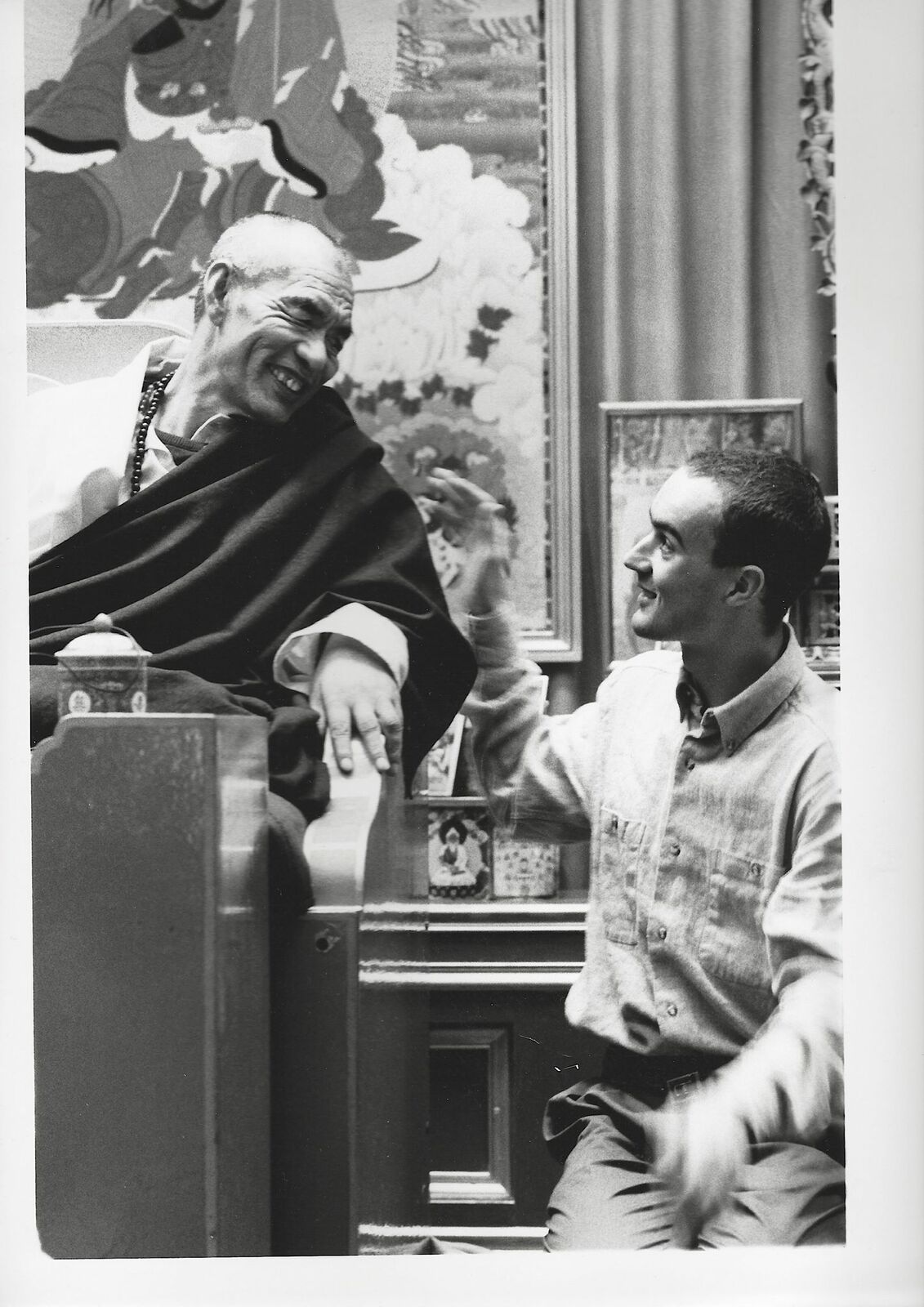 Nyoshül Khen Rinpoche and myself, a few years after the events related in this section
However, I had not made any practical arrangements for myself in this sense: in spite of all the efforts I had made during the last few years to serve as a volunteer interpreter for all kinds of Tibetan lamas, not one of them had ever thought of supporting me, of accompanying me in my training, even if it were to make me better able to serve them. In my case at least (but I fear that it is not an exception), the Tibetan lamas have always found it quite natural to be offered a volunteer translator, well trained in classical and modern Tibetan language and sufficiently knowledgeable of the texts of their traditions, without ever bothering to contribute to his studies, even if it is only by a small introduction letter: this is an astonishing thing that deserved to be said, at least for the information of those who will one day study the introduction of Tibetan Buddhism in the West, so that they do not substitute their own common sense fantasies for the bizarre and even disconcerting reality.
More substantially: I had in mind that it was useless to bother to find a way to go to Bhutan, assuming that it would have been possible without incurring expenses that were beyond the reach of the student that I was. Indeed, my only objective was not to do tourism (even if it was a pious one) in this beautiful country, but to be trained by Nyoshül Khenpo; this was my only thought since I had met him in 1987, in a way that I will tell elsewhere. And I will say that in my opinion this must have been his will too: in fact, in the Buddhist vision of things, if the master who trains his disciple does the good of the latter, who must know him immensely grateful, on the one hand, however, the master in this is only obeying the altruistic ("bodhisattva") vows that he has taken and which oblige him to do the good of beings in a completely disinterested manner, and on the other hand, man being mortal and even eminently fragile, all the traditional knowledge received and accumulated is made to be transmitted as much as possible.
One might tell me that it is up to the master alone, in Tibetan Buddhism, to discern what is appropriate for his disciple. This was perfectly clear in the mind of the young man that I was, and even too clear - in the sense that it seems to me, in retrospect, that I put a somewhat Benedictine view of obedience into my view of the relationship of the disciple to the master. I mean, strangely enough, Tibetan masters sometimes look for disciples who know what they want and are willing to put their foot in the door to get it. For me, on the other hand, and despite my deep love for Dzogchen in particular, this is something that I had not yet fully perceived; it took all the skill of Chhimed Rigdzin Rinpoche to get me to want to receive such a teaching and to be able to ask for it insistently. In my dealings with Nyoshül Khenpo, especially at that time, on the contrary, I wanted only what the Khenpo would want, with the full assurance that it could only be for the best. Since he had accepted me as a disciple a few years earlier (in the summer of 1989, I think), everything was, in my imagination, possible (including long and painful hardships), except that he would no longer want to train me, unless I myself broke, by serious faults, the pact he had freely agreed to seal with me.
In short, if I had not made any practical arrangements to go to Bhutan, a country difficult to reach (unless you are a rich tourist), it was because I could not wish to go there, except that he had called me there to begin at last this training so long awaited and which was the sole object of all my aspirations.
I had therefore written to the Khenpo that I would arrive in Kathmandu at the end of October and that I was at his disposal.
This is not the place to report here on the conditions of my stay in Nepal, even if it was quite a novel (I had to move, I think, thirteen times – more than Longchenpa had to in Sangphu! –; I was even hosted by a curious character named Serkong Tritrül Rinpoche, a gelukpa lama who is quite sulphurous, actively devout of Shukden, this divinity whose worship the Dalai Lama is working to proscribe; If I ever seriously write my memoirs, when I am old enough, I will write down all the strange things I saw and heard during this stay). It was a time when Tülku Orgyen was still alive; I experienced the curious world of Westerners living in Nepal and running from one teaching to another, feverishly awaiting, it seemed, the famous pointing out instructions, which would have revealed to them the fundamentally awakened nature of their own minds.
This world made me extremely uncomfortable, I must admit. I recognize that, in those days, I never fit in with any group of Western converts to Buddhism, even though I made many friendships with many people. In any case, after a while, I began to see the realization of something unlikely that Chhimed Rigdzin Rinpoche had told me:
"If you go to Nepal, you will not find any lama to teach you."
I say unlikely, because I already spoke enough Tibetan to receive the teachings directly in that language, on the one hand, and on the other hand Nepal was full of lamas who were probably willing to teach Westerners, the language issue being the main obstacle.
It was also in that year that I met, by the way, Lopön Tenzin Namdak (Yongdzin Rinpoche), the Bön master, whom I went to see at his monastery of Triten Norbutsé near Swayambhu. At that time, there were still very few buildings and, to get there, one had to cross all the rice fields below by walking on the low earthen walls that separated them - a real labyrinth, with very little shelter from the sun. I went back and forth almost every morning to try to study something; at first I was taught by Khenpo Nyima Namgyal, the then abbot of this monastery, but he was excessively busy and I often came only to be offered a light lunch. In a way, I think that my determination to try to learn something of Bön in such unfavorable circumstances is not unrelated to the great generosity that the masters of this tradition had towards me much later on. But, at that time, I still had the feeling that I was coming up against walls everywhere.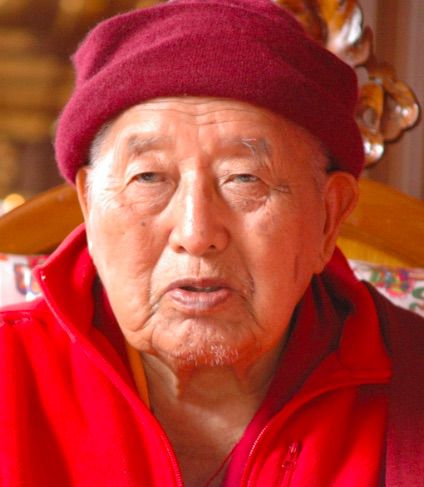 Yongdzin Rinpoche, Lopön Tenzin Namdak
To take just one representative example: a Nyingmapa master normally as gentle and peaceful as Khetsun Sangpo Rinpoche, to whom I was asking what I thought were quite innocent questions about a point of doctrine of the Ancient School, ended up giving me this quite violent answer:
"You don't understand anything I'm telling you; come back and see me when you speak Tibetan like Jeffrey Hopkins."
The funny thing is that I was to be a few years later the interpreter of Khetsun Sangpo Rinpoche when he gave the Yangti Nakpo teachings in France. He seemed to have completely forgotten that he had found me so bad and had refused to contribute to make me a little less incompetent, including for his own future needs. I think that this is a perfect illustration of what I wrote earlier, of all those lamas who have always thought that the training of a translator was at his own expense, that it should nevertheless be perfect, and that once trained by his own efforts and at his own expense, even under the most difficult, even the most hostile conditions, he should nevertheless be biddable, and this in a completely voluntary way. One can say that this long stay in Nepal (and then in India), which I would like to detail one day, was the moment when the scales fell from my eyes, if not about Buddhism as such (to which I still adhered without the slightest qualms), then at least about the human, social and moral reality of Tibetan Buddhism. Of course, everyone is free to think, if he likes, that all the difficulties I encountered were only the fruit of my "bad karma," or the deserved punishment for my faults, or the reflection of arrogant inner dispositions or at least ill-adapted to this environment. It is true that if I had not started from the assumption that I was dealing with more or less awakened beings, therefore perfectly clairvoyant, and at least totally disinterested, I would have made infinitely fewer mistakes, by working better at cultivating good relationships, at making a character for myself and at monetizing my talents, if not in cash, at least in mutually rendered services.
After a month or more, a letter from Nyoshül Khenpo, although addressed to me in France, reached me by an extraordinary combination of circumstances; I will once day translate all of the letters Nyoshul Khenpo sent to me.
In short, the Khenpo was telling me that I could not come to Bhutan, that he was ill, that we could meet again at the Nyingma Mönlam (great prayers of the Nyingmapas) which would take place a few months later near Bodhgaya in India. With this letter, there were three things: the text of Longchenpa's Choying Dzö (which he considered to be the ultimate expression of this author's thought and which he was to have read, a few years later, on his deathbed, during his agony); a photo of himself around the age of 30; and finally, on a small piece of rice paper, an imprint of Longchenpa's seal, which he always carried with him.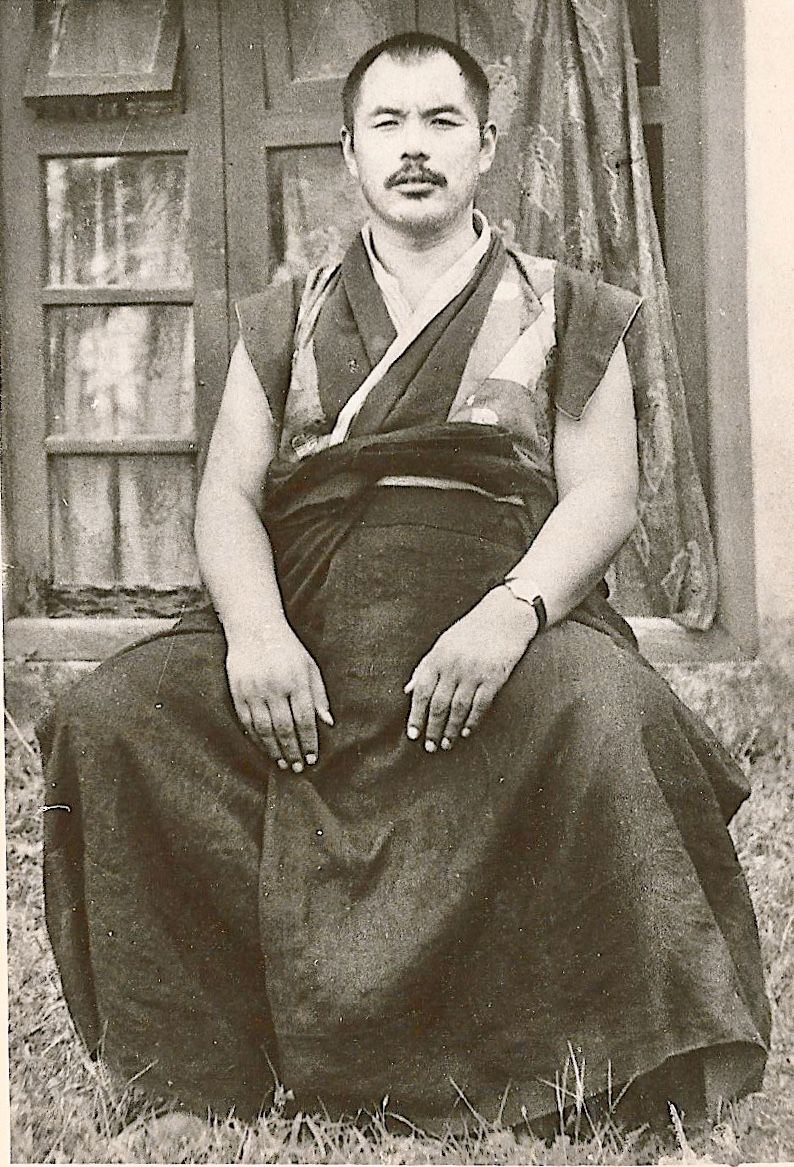 The picture of himself Nyoshül Khenpo sent to me in Nepal, with a copy of the Chöying Dzö and a print of Longchenpa's seal
At the very moment when he seemed to be blowing me off, he gave me these things which, symbolically, meant the transmission of what was most important to him. This is basically the summary of what my relationship with Nyoshül Khenpo has always been: exorbitant marks of affection, and even esteem (including when he pushed me to read all the Dzogchen literature without restrictions, which at that time was very rare, especially in the absence of formal transmissions), but at the same time an almost total lack of concern for really training me.
At about the same time, I was able to get him on the phone and he spoke to me quite brutally, especially when I asked him what to do until the Nyingma Mönlam, and especially what to study, where and with whom. In essence, he told me:
"Do what you want, I didn't bring you to Asia."
I have to admit that what I could have taken as an encouragement to the greatest freedom appeared to me as the first sign of what was to be confirmed later and which I will speak about elsewhere, namely, that the Khenpo would never really take me in hand as one would train an apprentice, which I believed to be the sine qua non of a truly fruitful spiritual life. But since I could not imagine anything else and since I felt totally bound by this kind of contract that is the formal creation of a master-disciple relationship, I never drew any conclusions from it while he was alive (except, as we shall see, by the skill and even the superior cunning of Chhimed Rigdzin Rinpoche, who had clearly seen what I had gotten myself into, without any ability to get out of it).
Thus, two of the astonishing things he had said seemed to come true:
"In my opinion, you will not go to Bhutan; in Nepal, you will not find anyone to teach you."
The last one is not absolutely accurate, although it has been true, by and large. Indeed, I had very fruitful exchanges with the old Lama of Maratika, Ngawang Chöphel Gyatso, a Sherpa hermit who became superior of the Mararika sanctuary in Nepal, well studied by Katia Buffetrille in the context of her studies on Tibetan holy places and pilgrimages. This lama was a practitioner of the Gongpa Zangthal and, as I was always walking around with the text of Tümku Tsullo's Manual, of which this stay in Nepal allowed me to do a first complete reading, the conversation was linked, very curiously, to this subject from the day of our meeting.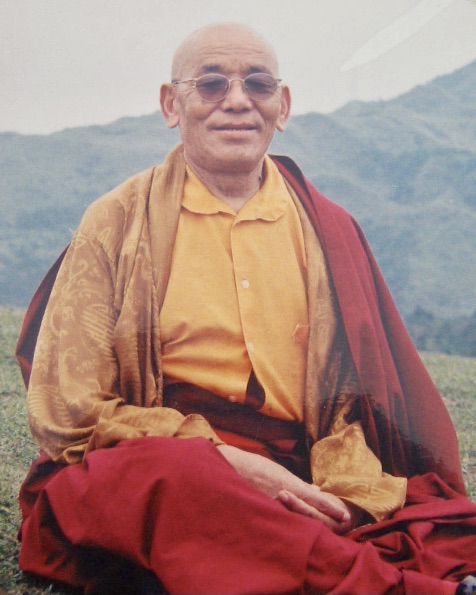 Maratika, Ngawang Chöphel Gyatso
However, two other elements announced by Chhimed Rigdzin Rinpoche remained improbable: indeed, apparently, I was to meet Nyoshül Khenpo again before the end of the year, on the one hand, and, on the other hand, there was no question of studying at what was still called the C.I.H.T.S., the Tibetan University of Sarnath in India.
In any case, I set out for India after more than two or three months spent in Nepal, which seemed to me to have been of a great sterility. I left full of barely-returned anger against all those Nyingmapa masters, of whom I said to myself (I remember saying this to a good Bönpo monk, who later became Geshe, and then Khenpo; Tenzin Phuntsok, a very good person and a great scholar in his tradition, now a teacher at Menri Monastery in central Tibet):
"The Tibetan masters of nowadays, if they saw someone with the very qualities that Marpa the translator had, would take his offerings and send him away without giving anything in return."
I was so bitter that I told myself that I would go to the Gelukpas monasteries of South India: I hoped for the support, on the account of much more effective, either of Geshe Sönam Gyaltsen, the first Tibetan master from whom I had received the teachings and with whom I had "taken refuge," who was then abbot of Gyümé, or of Gosok Rinpoche, whose translator I had been many times, who was then abbot of Sera. I never felt attracted by the Geluk tradition in terms of spirituality, except for the moral dimension of Lamrim, for which I have always had a very deep inclination. But I knew that the Gelukpa masters were much more generous and did not ask for endless pledges before giving their support to someone who really wanted to learn something. I figured that at least I could progress in Tibetan, and even study things that seemed to me to be the common heritage of Tibetan thought at the time, such as logic/theory of knowledge (tshad ma - it was not clear to me at the time that the Gelukpas had a distinct approach from the traditions I was involved with).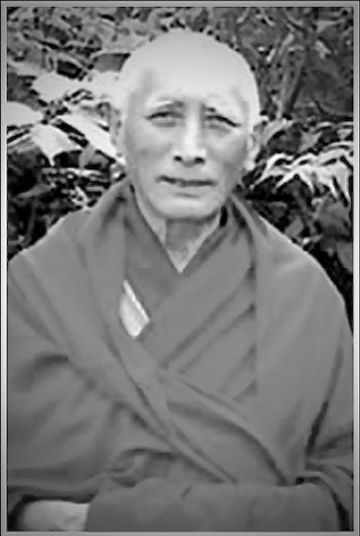 Geshe Sönam Gyaltsen, the Abbot of Gyumed
To tell the truth, again I had taken the wrong steps; to get to these monasteries I would have needed a special permit, as the Tibetan Settlements are not open to tourists. But it does not matter, since I was never to arrive there.
Once dropped off by the bus from Kathmandu to Benares, after a night of rest, I went to the university of Sarnath, not to study, but to find a very good friend I had made during my first trip to India (1989), whose lay name was Pasang Tsering (who was then still a monk). After all these disappointments, it was clear to me that spending a few days with a very good, very simple, very generous friend would be the most consoling thing in the world.
I found him without too much trouble. After the effusive reunion, he said to me:
"You know, your master, Chhimed Rigdzin, of whom you spoke in your letters, I think he is in Sarnath..."
I was very surprised, because Chhimed Rigdzin Rinpoche would normally be in Bodhgaya at that time, where he was holding his annual butter lamp offering retreat. But Pasang Tsering had no trouble finding him, having had as a tutor, as it were, when he had entered the university late in life, a learned ngakpa, Orgyen Tenzin, but who had been, I think, the calligrapher of edition of Tülku Tsullo's practice manual for the Gongpa Zangthal and was then close to C. R. Lama.
Chhimed Rigdzin Rinpoche had indeed come to the Mahabodhi Society in Sarnath (of which I believe he was one of the honorary presidents) with his Western disciples. I must admit that once I stood in front of him, something in me gave way, let go, of my obstinacy in wanting things to be done according to my idea. After a few days of participating in this retreat, I asked him to kindly write me a letter of recommendation so that I could study at the Tibetan university in Sarnath, as he had generously offered to do in Paris a few months earlier; which he did without reproaching me for not having seized the opportunity at the time - which admittedly presupposed a certain amount of mistrust or indifference on my part; or rather, the illusion that things were going to happen according to my expectations, which, it is true, in some ways were very reasonable, but which, obviously, did not correspond to what I would gladly call today the mysterious decrees of Providence.
There is much more to be said about this stay in Sarnath and what he told me there, but I am anxious to complete the story of how what he had told me came true from start to finish.
I was able to study for a few months with the excellent Khenpo Dorjee Tsering, then lecturer for the Nyingmapas at the C.I.H.T.S. in Sarnath; he was a very good scholar and an excellent religious man; I regret very much that I lost track of him completely afterwards; he later took up a position at Penor Rinpoche's monastery in South India, and very recently I learned that he had passed away. He taught me the whole Chöying Dzö of Longchenpa, or rather, he clarified all my doubts about the Lung gi terdzö, his self-commentary. It seemed to me that by asking him this I was fulfilling Nyoshül Khenpo's implicit expectations, symbolized by the small volume of the Chöying Dzö that he had sent to me in Nepal. In addition, the Khenpo gave me a bit of an introduction to tshad ma (logic and theory of knowledge) by having me work on a commentary by Mipham that they had just published in Sarnath (the 2-vol. copy we worked on is now in the library of the Bön center of Shenten Dargye Ling near Saumur in France).
So three of the four things that Chhimed Rigdzin said would happen had already happened, but I still had to see Nyoshül Khenpo at the Nyingma Mönlam in Bodhgaya before the end of the year. So I went there, with dear Pasang Tsering (and another gelukpa monk whom everyone called "Ali," I don't know why; I seem to have found him during my last trip to Nepal, who had become a bookseller near the Swayambhu stupa - but he didn't remember me, twenty years later, while I did recognize him!)
In any case, Nyoshül Khenpo did not come to the Nyingma Mönlam; he was apparently still too ill. For my part, in any case (physical exhaustion or moral collapse linked to this disappointment?), I caught pneumonia there, from which I probably owe it to the excellent Pasang Tsering not to have died, since it was he who ended up taking me to the Benares Hospital (oh delicious memories!) at a time when, having let the thing(which I took to be a big bronchitis) drag on too long, I could no longer walk alone.
After a while, my health having improved, I went back to Nepal, with the idea of returning quickly to France – but after having sent all the Tibetan books I had bought and stored there, at Serkong Tritrül Rinpoche's. But once I arrived (around January, I think), my health completely recovered, as if the polluted air of Kathmandu was good for my pneumonia, and I stayed there for a few more months.
But after Losar (Tibetan New Year), Nyoshül Khenpo finally left Bhutan and I was able to see him (without receiving any teaching, of course) in Nepal. The year, not only according to the Western calendar, but also according to the Tibetan calendar, had just ended - and therefore, it was quite literally what Chhimed Rigdzin Rinpoche had told me: "You will not see Nyoshül Khenpo this year."
I have never been superstitious by temperament, and I have always felt that, in order to know what one has to do, it is enough to settle on one's duties, without having to know in advance the success or failure of the action one is undertaking. So I never asked Chhimed Rigdzin Rinpoche for this kind of prophetic guidance, except once, in my great distress when, in 1999, when I realized that Nyoshül Khenpo was dying. But what is certain is that, from the time of the episode for which I apologize for the lengthy account, I always listened to everything he told me, even in a conversational tone, between the pear and the cheese, as we say in French, with the greatest attention. What he was to tell me later, curiously enough: "I remember every single thing you said or wrote to me," is also true for me in his regard.
I don't know if I had any "devotion" for Chhimed Rigdzin, in the sense that this term is used in Buddhist Centers. He was always more of an example (an inspiring singularity) than a model (to be imitated) for me, because he was so out of the ordinary; if, in a way, I wanted to become (if it were possible) another Nyoshül Khenpo, as similar as possible to him, on the other hand, I would not have wanted to be like Chhimed Rigdzin Rinpoche. On the other hand, while the desire to conform to Nyoshül Khenpo may have more or less hindered my spiritual (and even moral and psychological) development, following Chhimed Rigdzin clearly meant "becoming fully myself," without prejudging what that might be in the end.
Now, my life having become something quite alien to the great expectations of my youth, I may feel that I have deceived the expectations of Nyoshül Khenpo, or of other masters I have loved and respected. On the other hand, Chhimed Rigdzin's way of seeming to understand and see everything in advance, and his totally non-normative character, mean that I have a deep confidence that what began with him around 1989 will continue to make its way in me, without my having to think about it in any other way than by accepting what I accepted at the end of the episode I have just described: namely, that with him I had really entered into an adventure of which I did not have the key, knowing that he would not give it to me either, and that the stake would be to become fully what I was called to, without prejudging too much what it could be. For, in fact, in the predictions that Chhimed Rigdzin Rinpoche made to me, very few of them had the character of real warnings against evils that I was supposed to be able to avoid: very often, he simply announced to me what precipice I was going to throw myself into or be thrown into, without being able to do anything about it - the fruit of his words seeming to be above all an increase in my confidence in him, and not the avoidance of the perils announced.
Deep down, even today, I still don't understand anything; but precisely, I wonder if the essence of a successful relationship between master and disciple would not be rather there, in that something which is not without recalling the "transference" of which the psychoanalysts speak. Which is another way of putting a name to the nameless, by the way. The center of gravity is perhaps above all in the opening to the dimension of what can in no way be mastered, with something like a trusting abandonment to a superior wisdom: something that, at least, Chhimed Rigdzin Rinpoche allowed me to experience, which was not easy for someone as willing, as meticulous, in short, as concerned with doing well (and thus, in a sense, with controlling his own destiny) as I was then.
Next chapter: click here.