Longchenpa's letter to Karmapa III Rangjung Dorje : an English translation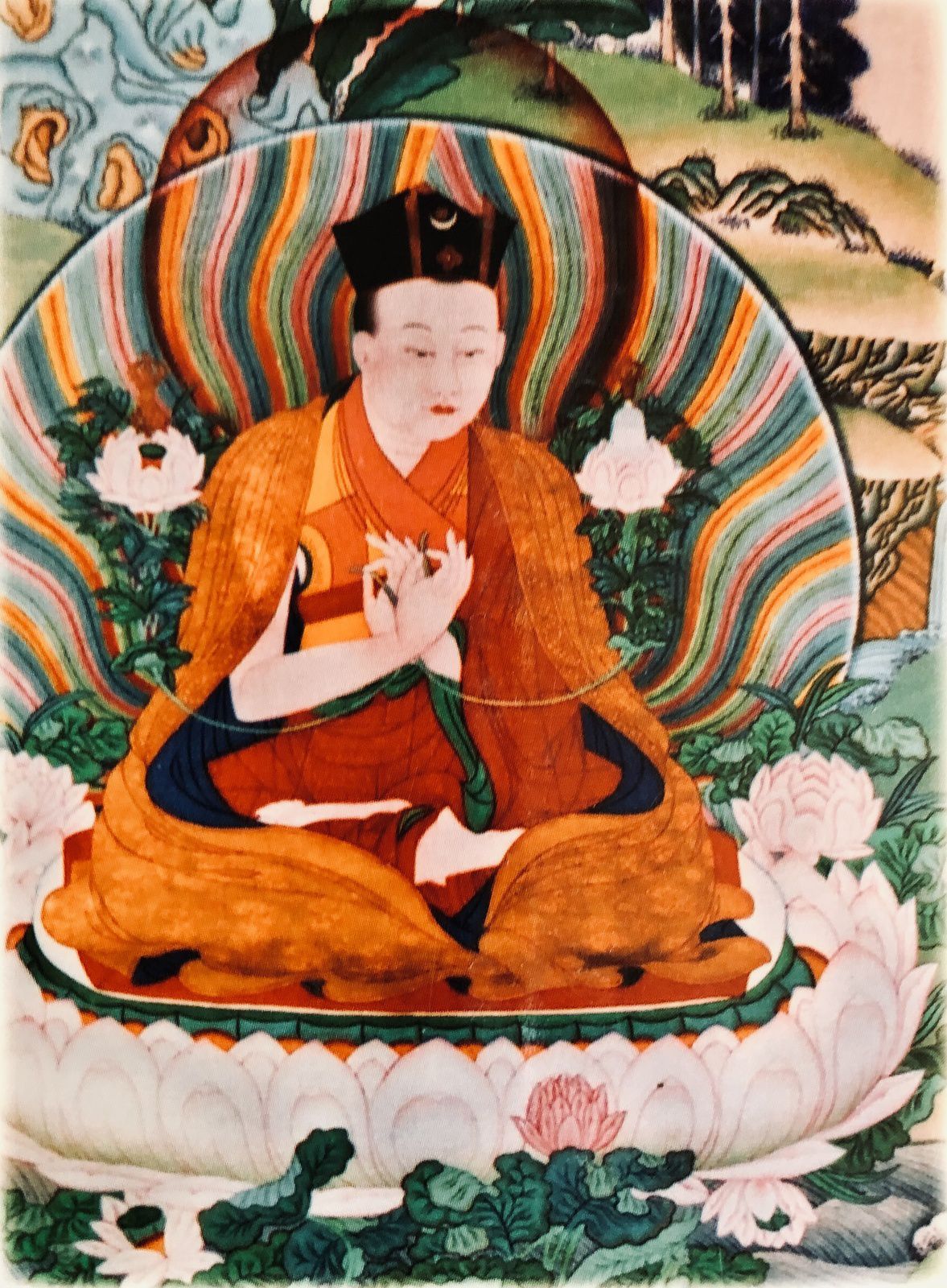 1. Presentation of the text; its capital interest; considerations on the date of its composition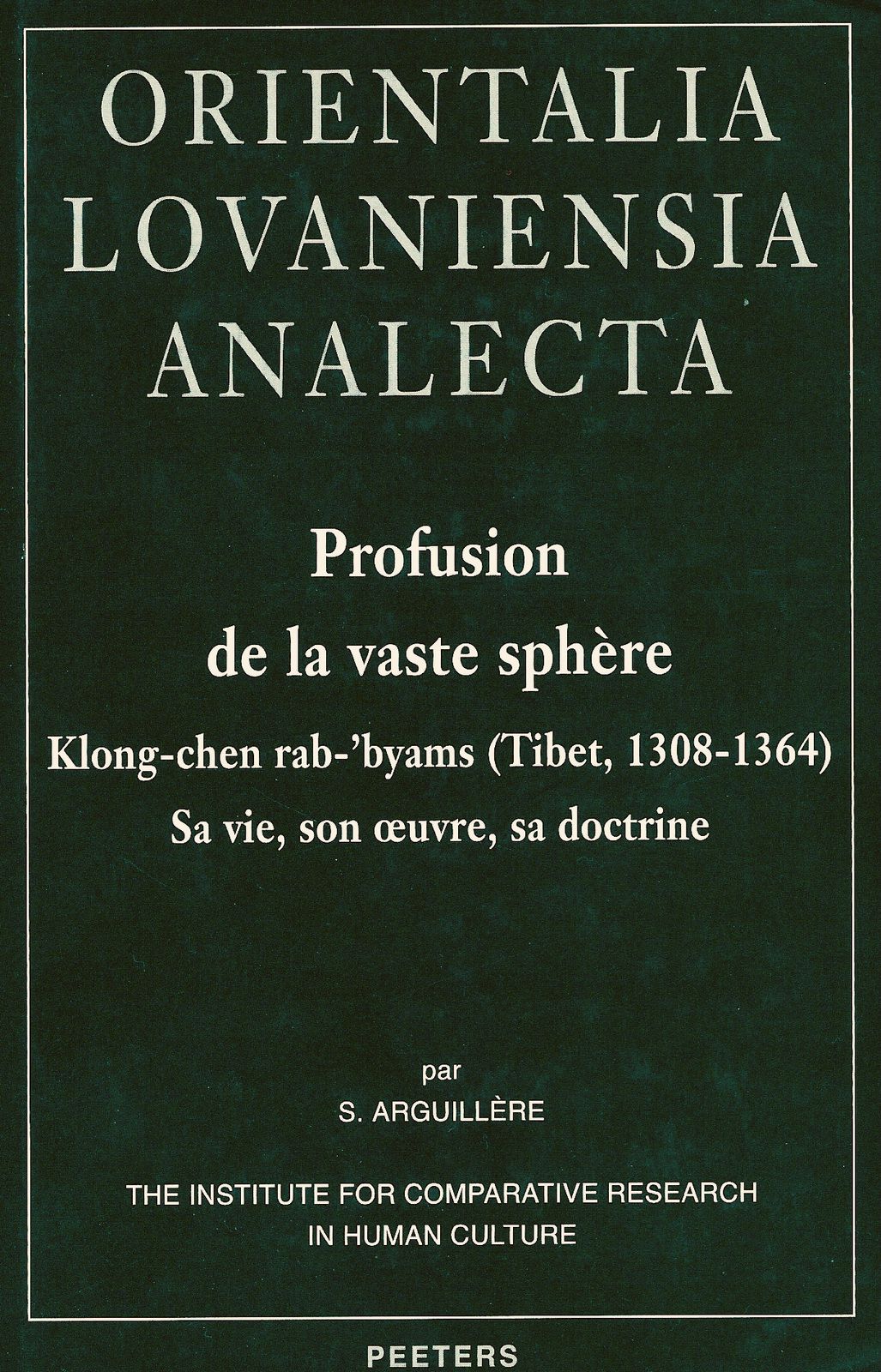 It is reasonable, for several reasons, to place before 1332 a writing which, moreover, bears all the marks of youth (I recall that Longchenpa was born in 1308): the address to the Karmapa, entitled rGyal ba Rang byung rdo rje la phul ba'i dri yig (in gSung thor bu, vol 1).
In addition to the date of death of the addressee, another element supports the hypothesis that this is an early work: Longchenpa signed it with his ordained name, Tültrim Lodrö (Tshul khrims blo gros), which is rare in all the great works of maturity[1]. Moreover, and this is more decisive, it bears witness to doubts (the tshom, the term appears more than once in the body of the text) about the points to which the future master of Gangri Thökar was to devote the most massive developments in his major treatises. This is not a letter sent to the Karmapa during one of his stays in China, since the text was, according to the colophon, composed in his presence.
This writing is of great importance in that it shows us what were the perplexities of the young Longchen Rabjam; it throws a considerable light on his future works, insofar as these same questions were to be abundantly taken up and meditated upon.
To say a word about Lonchenpa's way of composing, various details lead us to believe that he hardly touched up his writings once they were finished. On the other hand, it is only too clear that he liked to rework his work (I mean, to write again on the same subjects) a hundred times: the same points (especially those to which this address to Rangjung Dorje refers) are repeatedly reworked and reworked in many of his writings, with only minor differences.
It is clear that Lonchenpa never had in mind a global project, an overall plan of his work, where each treatise would have filled a precise place, without any redundancy, in order to exhaust a maximum of themes in a minimum of pages. On the contrary, each of his great treatises seems to be a microcosm of his thought, a mirror in which the whole system is reflected according to a particular perspective and which would still be self-sufficient even if all the rest of the work were lost. Or, more precisely, instead of each treatise being like a part integrated in a whole (which would be the work), it is itself to a certain extent an organism, rather than an organ, in which a state of development of the author's thought is expressed.
This adds to the difficulty of studying his thought, since it is often necessary to compare ten or fifteen texts, apparently very similar and, at the same time, subtly different, in order to know his doctrine on this or that capital point.
Moreover, since the colophons do not contain any indication of dates (with four or five exceptions out of 303 writings listed), it is only at the price of a long and complex investigation that one can conjecture what may have been the final state of his reflection. Hence the importance, which I would say is crucial for the understanding of his doctrine, of the research I outlined in my thesis on the chronology of his work.
I feel that we have, in a way, with the address to Rangjung Dorje, the germ from which the whole work was to emerge, once the author came into contact with the sNying thig tradition. This seems to invalidate the idea of Lonchenpa as a simple apologist for the thought of this tradition, and to give him the status of a thinker who started from a genuine philosophical questioning and built his doctrine from an authentically personal research, albeit nourished by the immense corpus that the examination of the quotations and references brings to light. Moreover, there are already in this text some traces of a knowledge, at least vague and bookish, of the sNying thig. Lonchenpa apparently did not discover it entirely from Kumarādza, whom he had not yet met, according to his biographies, at the time he may have written this text.
The more I reread this text, the less it seems to me to be the simple expression of a young student's naivety in dealing with matters still beyond his capacity. If there is anything undeniably juvenile about it, it is its prodigious impertinence, of which, incidentally, the Karmapa was certainly not the target. This little piece of writing, in its apparent candor, seems to me to be a choice piece in the ironic genre, highlighting without any complacency (but under the polite and submissive appearance of a set of questions respectfully addressed to a master) the doctrinal weaknesses of authors who, at first sight, are in the same "camp" as Lonchenpa. He combines in a few words a large number of vexing questions, precisely of the kind that have the gift of upsetting the rnying ma pa masters of our day. There is much to be said, moreover, about Klong chen rab 'byams' particular humor and (somewhat differently) about the sense of hilarity in his work.
This entirely versified text comprises, as its title indicates, a set of questions submitted to Rangjung Dorje (after a brief eulogy of the recipient).
2. Translation of the address to Karmapa Rangjung Dorje
Here is the translation of the philosophical part of the text (I have omitted the introductory and concluding tribute, etc.).
[371] Dang po'i sangs rgyas de gang [372] zhig | | Sems nyid yin na 'gro kun la | yod phyir sems nyid thog mtha' med | | de la dang po ji ltar rung |
"What is the primordial Buddha?
If this is the essence of the mind (sems nyid), then in all beings
It is present, since the essence of the mind is without beginning[2].
How [then] would it be acceptable [to call it] "primordial[3]"?
O na sangs rgyas gzhan yod na | tshogs gnyis sngon du song ma song |
But if this Buddha is something else [than the essence of the mind[4]],
Is it preceded by the double provision[5] or not?
Song na tshogs gnyis ston pa po | yod na de nyid dang po 'gal |
If he is, [of two things one:] either there is a preceptor (ston pa po) [who taught him to perfect] both provisions,
And there is a contradiction [in the assumption that the one we were talking about] is the first[6].
Med na rang bzhin dran pa po | gdod ma'i gang zag de su zhig |
3. Or,] if he has not [had a master], what is that original person
Who naturally becomes aware [of what to know and practice[7]]?
Tshogs gnyis sngon du ma song na | | sems nyid ma yin tshogs ma bsags | de 'dra'i sangs rgyas mtshar cig kye |
4. If [his Awakening] is not preceded by the double accumulation[8] ,
How strange that such a Buddha
Who is not the essence of the mind and which does not perfect [either] the accumulations!
mDo dang rgyud sder 'gro kun la | | rgyal ba'i mtshan dpe 'od zer sogs | | dar-yug chen po'i dpes bstan pa | | don la yod dam med pa nyid |
5. In the sūtra and tantra, [the presence] in all migrants
Of the signs, marks, light rays, etc., of the Conquerors
Is taught by the example of the great silk fabric[9].
Are they [10]really present or not?
Med na gzhi dus sems can la | | de med phyir na 'arm dus su | | bsgrub kyang sangs rgyas rung ma yin | | dag rgyu med phyir dag 'arm med | | sangs rgyas rung ba ma yin no |
6. If they are not, then, like, at the time of the base,
Sentient beings lack it, [so it follows that] at the time of the fruit,
In spite of the accomplished practice, one will be unable to achieve [the state of] Buddha:
If there is no pure principle (dag rgyu), there is no fruit of purification (dag 'bras),
And, [therefore,] Awakening is impossible[11].
Don la yod na rtag ther zug | | bdag bzhin 'gyur zhing 'bad med kyang | 'tshang rgyar ci phyir rung ma yin |
7. But if [all these qualities of the Buddhas] really exist [in deluded sentient beings, then Awakening] will be eternal, stable,
Like the ātman [of the brahmins], and why, even without effort,
Wouldn't we wake up[12]?
Dri mas bsgribs phyir 'bad ce na | | gdod nas dag pa'i chos sku la | | bsgrib bya sgrib byed gang la 'thad |
8. "- It is because they are veiled[13] by defilements that one [must] make an effort",
Says one. But how, in the primordially pure Dharmakāya,
Could the "obscured" and the "obscuring" be possible[14]?
De nyid sems nyid yin lugs la | | dri mas sgrib par mi 'gyur na | | gzhan la dri mas bsgribs ci gnod |
9. If it is the mode of being of the essence of the mind,
It cannot be obscured for [this essence of the spirit] by the defilements [of superficial reality].
What does it matter if it is obscured for some other [cognitive faculty[15]]?
Laṅ kar gshegs pa'i mdo las kyang | don la yod na bdag mtshungs gsungs |
10. In the Laṅkāvatāra sūtra also,
It is said that if [the qualities of the Buddhas] were truly present [in sentient beings], it would amount to the same as the ātman [of Brahmanism].
gZhan yang bde-gshegs [373] khams de ni | | dri ma bral tshe snang bar 'gyur | | gzhi dus nyid nas yod ces na | rdo rje gdan 'gro'i skye bo la | rdo rje gdan dang de yi lam | | gzhi nas sems la yod ces mtshungs | | rgyu la 'bras gnas skyon du 'gyur |
11. Moreover, if we say that "this sugatagarbha
That, at the moment when it will be rid of the defilements, will manifest himself,
Was present since the moment of the base",
That is to say, in the individual who goes to Bodhgāya,
Bodhgāya and the road leading to it
Are present in his mind since the beginning :
One would fall [thus] into the trap of the pre-existence of the effect in the cause[16].
Zhi khro la sogs 'gro kun la | | rang bzhin grub pa'i dkyil 'khor nyid | | don la yod dam med pa nyid | Med na mdo dang rgyud sder gsungs | | la las sgrub pa'i dkyil 'khor mthong | de la dper ni rung ma yin |
12. This "maṇḍala naturally established in all migrants," which is referred to
In [texts] such as The Peaceful and Terrible [Divinities
Is it really there or not?
If it is not there, then the maṇḍala of practice, perceived by some,
Of which there is mention (gsungs) in [some] sūtra[17] and tantras,
Is not suitable as an example[18].
Yod na lus sems gang la yod | Lus la yod pa shi ba'i tshe | | dkyil 'khor lha rnams lus bzhin 'gyur |
13. But if it is there, where, in body and mind, is it?
If it is in the body[19], at the time of death,
It will happen to the deities of the maṇḍala the same as to the body [which decays].
Sems la yod na sems de ni | | mgo mjug med phyir lha gnas dang | | brten pa'i lha rnams ji ltar 'grub |
14. If it is in the mind that they are found, as this mind
Is without extension[20], how will be found there (ji ltar 'grub) the divine dwellings
What about all the deities they house (brten pa'i lha rnams)[21]?
Khor 'das snga phyi dus mnyam bzhag | | srid snga nyid na srid pa de | | dang po gang las byung ba nyid |
15. As to whether the saṃsāra and the nirvāṇa are one prior, the other posterior, or whether they are simultaneous,
If the saṃsāra is earlier, then
Where did it originally come from?
Ma rig las las byung zhe na | | de yang dang po gang las byung | | sems nyid las byung de nyid na | | sems nyid skye med dngos po med | de la ma rig la sogs pa'i | | rgyu rkyen dngos po 'byung ba ni | | dngos med las dngos 'byung ltar gyur |
16. "- It is, it is said, from unintelligence and karman that it comes."
But what did they initially do?
"- Of the essence of the mind[22]!" - If it were so,
This essence of the mind which is unborn and a non-thing
Would be the source of[23] the things [with] causes and conditions
Such as unintelligence[24]:
This would be the view of the production of things from non-thingsl[25].
On te ma rig la sogs las | | gzhan 'byung srid pa yod ce na | | mtshar cig sngon med bzhad gad rgyu |
17. But if we say that it is possible that things like unintelligence
The others are from[26] ,
How strange, and unprecedentedly ridiculous!
Mya ngan 'das snga de ltar na | 'gro bas ma bsgrubs sa lam bgrod | | de 'dra'i myang 'das ji lta [374] bu | mNyam bzhag gang zhig gang gis sgrub |
18. But if [one were to posit] the anteriority of nirvāṇa,
Then the lands and the ways would be traversed without the migrants having applied themselves to it[27].
What then would such a nirvāṇa be?
And what good is any kind of recollection[28]?
bsGrub bya sgrub byed med na yang | | 'khor 'das gzod nas tha dad na | | srid ni ther zug sangs rgyas min | | mya ngan 'das lam don med 'gyur |
19. If, although there is nothing to do and no practice,
Saṃsāra and nirvāṇa were from the beginning distinct,
The saṃsāra would be firmly [determined as such], a non-Awakening,
And the Way [allegedly to the] nirvāṇa would be nonsense[29].
gZhan yang zhi bas srid snga na | | sangs rgyas rnams la dang po rang | | lam sgrub dge sdig ston pa nyid | | mi 'gyur thams cad de dus mtshungs |
20. Besides, if it was the saṃsāra that preceded the nirvāṇa,
Then the one who was the first of all the Buddhas
Would not have had a master to instruct him in the practice of the Way, virtue and vice,
For at that time all were equally [misguided].
dMus long mnyams pos mnyam po la | lam mkhan mi nus nyid bzhin no |
21. A blind man would not know, for one of his own kind,
Point the way, for both are equally [plunged into darkness].
'Khrul 'di rgyu bcas rgyu med zhig | | rGyu bcas yin na dang po yi | 'khrul rgyu de la rgyu yod med | | yod na dang po'i 'khrul rgyur 'gal | | med na rgyu med 'khrul rgyu med |
22. Either it has a cause or it has no cause.
If he is endowed with it, then does this initial cause of delusion
[Itself] have a cause or does it not?
If it has one, then that contradicts [the fact that it has been called] "first cause";
But if it has no cause, the cause of error does not exist.
Dang po'i 'khrul pa mi 'dod na | | da lta'i 'khrul pa rigs mi 'gyur | | 'On te 'khrul pa'i rgyu med na | | sna tshogs 'khrul 'di gang las byung |
23. And if one does not profess [the existence] of an initial error,
The present delusion is contrary to reason.
Indeed, if there is no [primary] cause of delusion,
Where then does this diverse delusion [that we experience] come from?
Chos can chos nyid gcig tha dad | | gzhan yin dang po nyid ce na | | chos nyid 'khrul pa sna tshogs 'gyur |
24. Are the phenomenon (chos can) and the essence (chos nyid) the same, or different,
Or something else, [i.e., neither the same nor different][30]?
In the first hypothesis, the essence will be the diversified bewilderment.
Tha dad nyid ni chos rang bzhin | | tha dad chos can chos nyid du | 'gyur ba de 'dra gang las yin |
25. "The difference is [in] the nature of the phenomenon," [one says];
But where would it come from that a phenomenal [reality],
Different from an essential [reality], would change into it[31]?
gNyis yin na'ang skyon gnyis po | | snga ma bzhin du so na gnas |
26. But if [one asserts that] they are both, there are two faults [in such a position],
As [those we met] before, in each case[32] .
On te gcig dang tha dad min | don min nyid na chos can dang | chos nyid so sor bzhag med 'gyur |
27. To say that they] are neither the same nor different,
Is the very absurdity, which would imply the impossibility of determining
In their specificity the phenomenon and the essence.
Ma rig la sogs 'gro 'khor ba'i | sgrib pa gar brten ji ltar sgrib |
28. On what do the saṃsāra's obscurations, such as ignorance, rest?
And how do they blind (ji ltar sgrib) the migrants[33]?
Sems nyid gzhi rtsa kun dang bral | | rten med rang bzhin skye ba med | ye nas stong la sgrib mi nus |
29. The essence of the mind, [375] which is devoid of any foundation and principle,
Without basis, not generated [by its own] nature,
Empty from the beginning, cannot be veiled.
On te sna tshogs sems sgrib na | de-nyid sgrib yin sgrib ci dgos | De lta na yang sgrib ce na | sna tshogs sems gang gang las byung |
30. If [one says:] "it is the spirit of diversity that is obscured",
Since it is he who is the occultation, to obscure him would be vain!
And if it is said that in spite of this [it is he who is] veiled,
Where does this spirit of diversity come from?
| da lta gar gnas ji ltar sgrib | | sems ni sems nyid la brten na | sems nyid gang la brten pa yin |
31. Where does it remain at the moment, and in what sense is it obscured?
If [it is said that] the mind rests on the essence of the mind,
What is the basis for this[34]?
rTen sa med na brten pa med | rten med sgrib pas su la sgrib | 'khor bar 'ching byed grub ma yin |
32. If there is no support, nothing is based on it[35];
And who would be blinded by an unfounded occultation?
That which binds us in the saṃsāra is not established!
lTa sgom spyod pa 'bras bu rnams | | ngo bo gcig gam so so ba | gcig na dang por bar dang mtha' | | lta sgom spyod 'bras bstan min nam |
33. All [these things such as] View, Meditation, Conduct[36] and Fruit
Are they identical or diverse in essence?
If [we affirm their] identity, [what about this:] do we not teach that there is a beginning, a middle and an end
In View, Meditation, Conduct and Fruit[37]?
O na tha dad nyid ce na | | de dag ngo bo mi gcig pa'i | | chos kyis ya bral don mi 'grub |
34. "They are therefore different", one might say;
But then, due to the fact (chos kyis) of their essential disparity,
One will not achieve his ends [by means of dismembered] elements (ya bral) [38].
Shin tu mnyam bzhag rnal 'byor pa | | gang snang rang sar 'jog pa na | | snang yul tha mal snang 'di dang | | goms yul lha skye thig le 'od | | la sogs mi g.yo mngon sum lam | | snang ba'i yul la khyad yod med |
35. For the practitioner (rnal 'byor pa) [immersed in] very deep contemplation,
Is there a difference between the objects he perceives,
On the one hand, [in the case of] ordinary apparent objects (snang yul tha mal)
When he leaves to itself (rang sar 'jog pa) whatever may appear,
And, on the other hand, [in the case of] apparent objects such as divine bodies, "drops" (thig le) and lights
Of the Way of the unchangeable (mi g.yo) intuitive evidence (mngon sum)[39]?
Yod na gang snang thams cad kun | | rgyal bas mnyam nyid gsungs dang 'gal | Med na mchog gi stong gzugs nyid | mthong ba tsam gyis mtha' yas pa'i | yon tan rgyud sder gsungs pa 'gal |
36. If there is one, it contradicts what the Conquerors said
Of the equality of all that may appear.
If there is none, it is in contradiction with what the Tantras say:
Infinite qualities [obtained] by simple perception
Of empty supreme forms (śūnyabimba)[40].
dBang po rnon po las dang po | 'bad pas tshe gcig sangs rgyas nyid | [376] | 'thob ces gsungs pa de yang gang | | sa dang lam ni gang du 'du |
37. Who are these "beginners with acute faculties[41]",
Of which it is said that in one lifetime they can
Reach Buddhahood?
To which Earth (bhūmi), to which Way (mārga) do they belong (gang du 'du)?
rGyal dang rig 'dzin gang zag rnams | | dgongs dang brda dang snyan khung brgyud | | gsungs na dgongs pa'i brgyud lung gang | | Kun bzang chos sku chen po de | dgongs dang ma dgongs mtha' las 'das | de yis gzhan la ji ltar brgyud |
38. When we speak of the [three] transmissions (brgyud) - that of Mind (dgongs), the symbolic (brda) and the oral (snyan) -
In all these beings [such as] Conquerors and vidyādharas,
What is the Mind transmission [42]?
This great Reality Body of the Excellent In All Respects (Samantabhadra)
Is it not beyond the extremes of "Mind[43]" and "non-Mind"?
How [then] would he transmit anything] to others through this [so-called Mind][44]?
Rig 'dzin brda yi brgyud pa yang | tshig dang yi ger chos bstan pa | | yod na brda yis ji ltar brgyud | | snyan khung brgyud dang khyad ci yod |
39. As for the symbolic transmission (brda brgyud) itself,
If it is said that the Dharma is taught there by words and texts[45] ,
In what sense is it transmitted by means of symbols?
How does this differ from oral transmission?
Khor 'das dang po'i gyes mtshams sam | dbye gzhi gang las ji ltar byung | Sems can gsar skye yod dang med | yod na sems can thog mtha' nyid | yod 'gyur 'khor ba'i thog mtha' yod |
40. From what "differentiating boundary" or from what "basis of opposition",
And in what way, did the saṃsāra and nirvāṇa[46] occur?
Is there an initial production (gsar skye)[47]of sentient beings or is there none?
If there was one, there would be a primordial beginning
Sentient beings, and the saṃsāra would have a prime term[48].
Med na sems can 'di dag kun | dang po gang las ji ltar byung | Dang po gsar skyes ma byung na | | da lta sems can dmigs mi 'gyur |
41. But if there is none, then all these sentient beings,
Where did they come from initially[49] and how did they appear?
If they had not been produced first,
We wouldn't see sentient beings now..."
The last lines of the text contain a few formulas of deference accompanying these questions, presented to the Karmapa as doubts about the doctrine.
We confess that we have not yet investigated whether there is a reply from Rangjung Dorje which, with any luck, could be dated. It may be that if such a document is preserved among the works of this Karma pa, it would not have attracted attention, being addressed to a Tshulthrims Lodrö in whom no one may have thought to recognize Longchenpa.